By now, you're probably familiar with LSD (lysergic acid diethylamide). It's the quintessential psychedelic substance alongside the active ingredient in magic mushrooms — psilocybin. 1P LSD
What you may not be familiar with is that there are actually dozens of analogs of LSD that have virtually identical effects.
1P-LSD is one such analog. The molecular difference is subtle, and recent research even suggests LSD is a prodrug of LSD. This means that when you take 1P, it's converted to LSD to produce psychedelic effects.
1P LSD is legal in Canada and held in a legal-grey-area in the United States.
Here's everything you need to know about 1P LSD.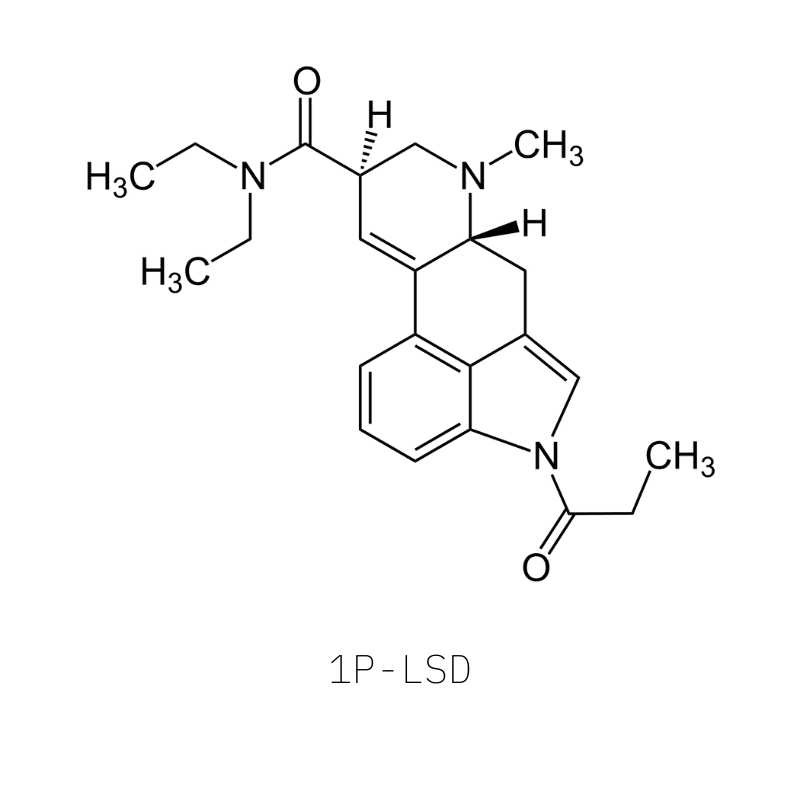 About
1P stands for 1-propionyl-lysergic acid diethylamide. It's a derivative of LSD — which essentially means it's a modified version of the classic LSD-25 that Albert Hofmann discovered in 1943.
This molecule is differentiated from LSD by a propionyl group attached to the nitrogen molecule in the indole portion of LSD. The central indole molecule of LSD is the characterizing element of the molecule that's shared with all other tryptamine-based psychedelics (such as DMT or psilocybin).
1P itself is only mildly psychedelic. It has a 67-fold less binding affinity for the 5-HT1A receptors, 13-fold less activity at the 5-HT2A receptors, and a 3.5-fold increase at h5-HT2C receptors than LSD-25.
However, LSD is a prodrug for LSD, which means it's converted to LSD by the liver, which then goes on to produce psychoactive effects. The bioavailability of LSD from this product is nearly 100%.
 Specs & Technical Details
| | |
| --- | --- |
| Active Ingredient | 1-propionyl-lysergic acid diethylamide |
| Level of Risk | Low |
| Other Names | Legal Acid |
| Most Common Side-Effects | Anxiety & paranoia |
| Duration of Effects | 7 – 11 hours |
| Legality | Not Scheduled In Most Countries (Legal Grey-Area) |
Where Did It Come From?
Since the prohibition of LSD and other psychedelics in 1966, chemists have been seeking to discover new psychedelic "research chemicals" or "designer drugs."
Researchers like Alexander Shulgin and Dr. David E. Nichols (Purdue University) have made a lot of progress over the years.
It's unclear when 1P was first invented and by whom — but it was first officially reported in 2015 by the European Monitoring Centre for Drugs and Drug Addiction (EMCDDA).
This compound entered the market as a "legal LSD alternative" in the mid-2010s without any previous mention in scientific literature. Whoever invented it didn't publish anything about it and has made no attempt to take credit for their discovery.
Other Lysergic acid diethylamide
Analogs & Derivatives
1B-LSD
1cP-LSD
AL-LAD
ALD-52
ETH-LAD
LSM-775
LSZ
PRO-LAD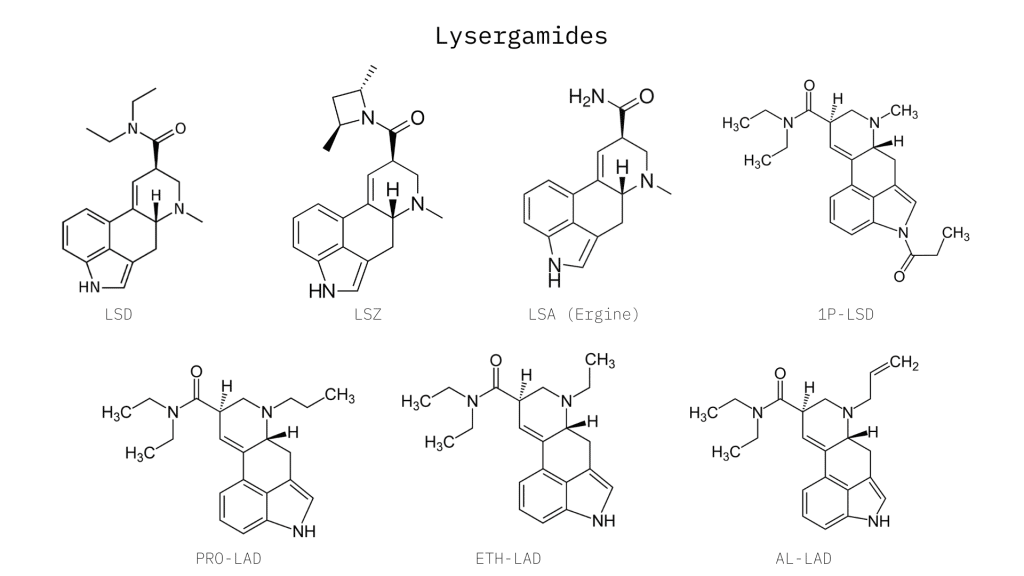 What Are The Dose?
The dose of 1P-LSD is equivalent to LSD. There have never been any studies on the effective dose of 1P-LSD.
However, with recent findings that 1P-LSD is converted to LSD at a rate of nearly 100%, the psychoactive dose would be identical to that of LSD:
Microdose — 10–20 micrograms
Threshold Dose — 25–40 micrograms
Standard Psychoactive Dose — 80–200 micrograms
Heroic Dose — 200–400 micrograms
What Does Feel Like?
The effects of 1P are virtually identical to that of LSD. The only difference is that it can take a little bit longer for the effects to kick in. This is because the 1P needs to first be metabolized by the liver and turned into LSD.
The experience can vary widely depending on your internal mental state. If you're depressed or anxious going into the experience, this product is going to inflate this even further. Likewise, if you feel excited, positive, and curious, this product is going to expand this state of consciousness even further.
This is exactly why the concept of set (mindset) and setting (the environment and people you're with during the trip) is so important. Going into the experience with a negative attitude, which can include fear, anxiety, or depression, will ultimately lead to a more challenging experience and may even pose psychological harm.
The positive effects of the product and other analogs:
Hallucinations
Euphoria
Synesthesia
Remembrance of significant life events
Mystical experiences
Ego-dissolution
Cathartic experiences
Deep-reaching insightful experiences
A strong sense of awe & wonder
Altered perception of time
Laughter
The negative effects of this product and other analogs:
Paranoia
Reliving past traumatic experiences
Anxiety
Believing people are "out to get you"
Confusion and frustration when performing routine tasks
Feelings of being overwhelmed
Triggering of psychosis or other mental illness
These negative effects can't always be avoided, but they can be significantly reduced by following our guidelines for the responsible use of psychedelics.