Liquid LSD is by far one of the most popular psychedelic drugs in the world — and for good reason. This powerful compound has a tendency of inducing valuable personal insights.
By now, you've probably heard about the powerful psychedelic compound known as acid.
It's famous for being the inspiration behind many of the Beatles' hit music, driving the counterculture of the 1960s, and for its (attempted) use by the CIA as a mind-control agent in the MK ULTRA project (more on this later).
In this guide, you'll learn everything you need to know about LSD.
We cover dosing, what to expect after you take it, and touch on the interesting history of perhaps the most famous psychedelic in the world.
We'll also review the research supporting the therapeutic use of Liquid LSD for addiction, depression, anxiety, and cluster headaches.
Let's start with the basics by exploring what LSD actually is.
What is Liquid LSD?
Liquid LSD is a semi-synthetic derivative of a group of compounds called lysergamides. These compounds are primarily found in a species of rye fungus called ergot.
LSD works by activating serotonin receptors in the brain — which produces changes in visual, auditory, and tactile perception. It promotes introspection and dissolving of the "ego".
An acid trip can last anywhere from 8 to 12 hours.
Conventional uses of acid revolved around self-growth and spiritual exploration — but research has also shown a lot of promise for LSD as a treatment for psychiatric disorders.
It has the ability to "reset" the default mode network — which is a series of brain processes that control our inner sense of self-worth and ego. Hyperactivity in the default mode network has been linked with depression, anxiety, obsessive-compulsive disorder, addiction, and more.
LSD: Specs & Technical Details
| | |
| --- | --- |
| Active Ingredient | Lysergic acid diethylamide |
| Level of Risk | Low |
| Other Names | Acid, Lucy, Mellow Yellow, California Sunshine |
| Most Common Side Effects | Anxiety & paranoia |
| Duration of Effects | 6 – 10 hours |
| Legality | Illegal in most parts of the world |
Common Names For Liquid LSD
LSD has been around for over 60 years now and has accumulated many nicknames over the years.
Here are some of the most prominent names for LSD:
Acid
Lucy
Mellow Yellow
Window Pane
California Sunshine
LAD (the English acronym for lysergic acid diethylamide)
Safe LSD Guidelines
📚 Learn the four pillars of responsible psychedelic use — set, setting, sitter, & substance
🤓 Know your dose — the common dose for LSD is about 80 μg
🧪 Test your substances — always test your LSD with a reagent test kit before you start
⏱️ Know the timeline — the effects of LSD are going to last between 7 and 12 hours
👩🏻‍🤝‍👨🏾 Have a trip sitter nearby — someone you trust who remains sober throughout the experience
😵‍💫 Don't mix — it isn't safe to mix LSD with other drugs, medications, or alcohol
What's The Dose of LSD?

The most common dose for LSD is about 80 micrograms — which is the average amount of LSD in a standard square of blotter paper (+/- 10%).
Depending on the manufacturer, the dose per blotter square can range from about 20 mcg of LSD to 100 mcg.
The usual dose is to take one blotter square at a time. Some people will take two or even three doses. Only people with a lot of experience using LSD should even consider taking more than one square at a time. It's easy to underestimate the effects of LSD until it's too late.
Many people will take one square, and prematurely take another after an hour when the effects aren't "strong enough". Sixty minutes later, you've got two full doses of LSD. Once you've taken the LSD, you can't un-take it. You're going to feel the effects no matter what you do — so make sure you don't take too much.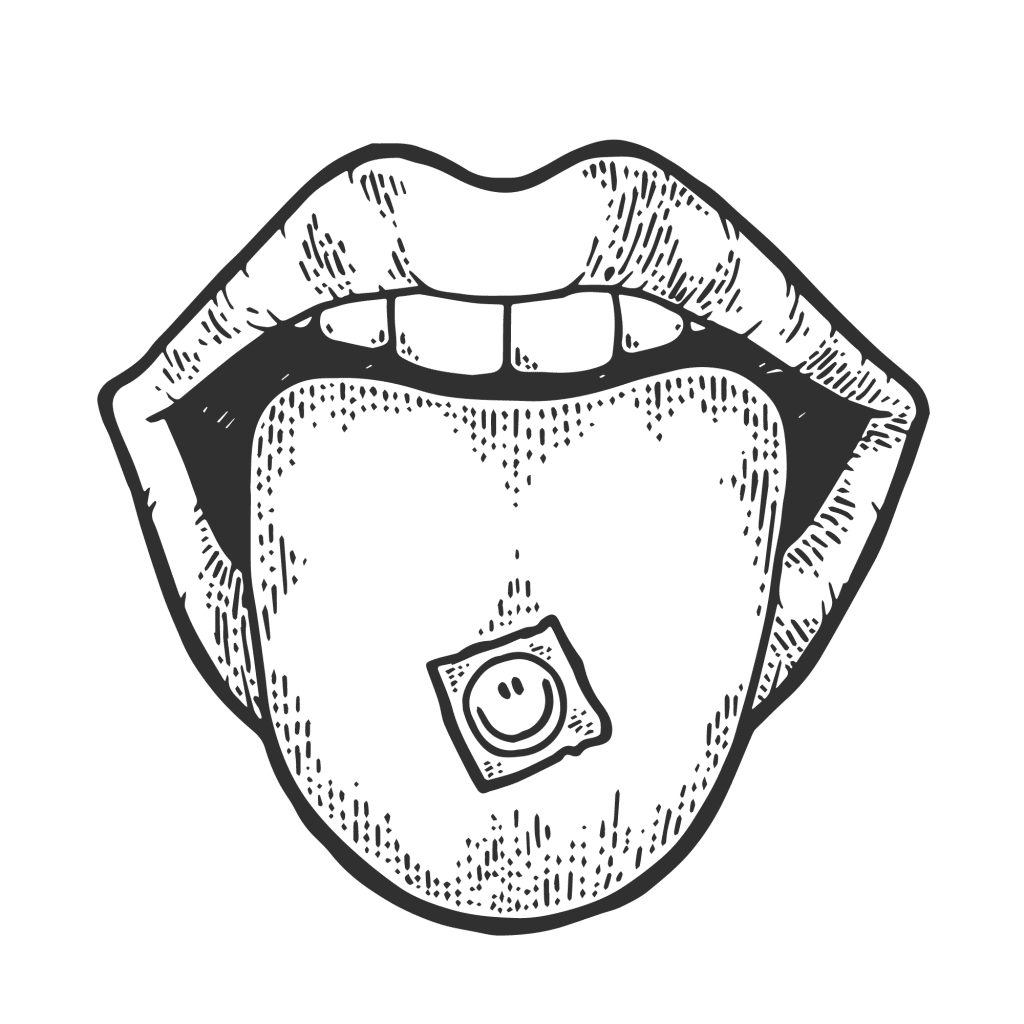 Microdose
(10 – 25 micrograms)
Any dose below the psychoactive threshold is considered a microdose. This means the dose isn't strong enough to make you hallucinate.
The threshold for LSD is roughly 25 mcg — so most people will take around half or less of that as a microdose (10 – 25 mcg).
The purpose of microdosing isn't to "trip." It's used as a tool to promote a heightened sense of focus and productivity, boost creativity, and support mental health conditions like depression and anxiety over long periods of time.
The main benefits of microdosing appear gradually over the course of several weeks or months.
There are a few different philosophies on the dosage schedule while microdosing. The most common is the protocol outlined by Dr. James Fadiman — a prominent psychotherapy researcher. He sought to standardize microdosing to make it easier to research.
Dr. Fadiman's protocol is to take a microdose of LSD every third day for a full month.
You can microdose for longer than this but should never do more than three months at a time before taking an extended break for at least a month.
LSD dosage schedules:
One day on, two days off
Five days on, two days off
One week on, one week off
The Standard Psychoactive Dose
(80 – 200 micrograms)
The average psychoactive dose of LSD is very low — around 80 to 200 micrograms. Even a dose of 20 mcg is enough to produce subtle changes in perception.
The high potency of acid makes measuring the dose difficult. A single drop of acid that's been diluted for making blotters contains around 70 mcg.
However, a single drop of an undiluted LSD solution could contain as much as 70,000 mcg.
Instead of measuring out drop doses, manufacturers dilute and coat small pieces of paper with LSD and cut them into squares for individual doses. This is referred to as blotter paper.
These paper squares are then placed in the mouth and held there to allow the active ingredient to absorb through the mouth's mucus membranes.
It's hard to know what the exact dose is for a single square of blotter acid paper. Factors like how the LSD was stored, whether it was exposed to sunlight or not, and the potency of the acid used to make it can all affect the dose per blotter paper.
You can get a rough gauge on the dose per piece based on its effects. If you or someone else has taken acid cut from the same sheet of blotter paper, you'll be able to get an idea if it's on the high-end of the dose (100 mcg LSD) or the lower-end (20 mcg). If you're not sure, it's wise to start with just a single piece rather than underestimating the effects and taking too much.
Heroic Dose
(200 – 400 micrograms)
A heroic dose is considered any amount above 200 micrograms. These doses are powerful and produce dramatic shifts in the perception of reality. At this dose, you're likely to experience dissociative thoughts, loss of ego, visual and auditory hallucinations, and out-of-body experiences.
This dose should never be attempted by anybody who doesn't already have a lot of experience using LSD or is under the direct supervision of a trained psychotherapist.
While this dose can provide incredible insights and introspective benefits, it also brings a much higher risk of a "bad trip".
Liquid LSD Tolerance
The body forms a tolerance to all tryptamine psychedelics relatively quickly. This includes LSD, DMT, LSA, and psilocybin.
Tolerance means the body becomes resistant to the effects of a drug. You'll need to take a larger dose the second time you take it to match the intensity of the initial dose.
Tolerance to LSD usually develops after a single dose and can take two weeks to reverse entirely.
If you take a 100 mcg dose of acid today, you'll need to take roughly 280 mcg tomorrow to experience the same intensity of effects. However, if you wait for about two weeks, you'll only need to take 100 mcg to get the same effects all over again.
How Does Tolerance Form?
Compounds like LSD push the balance of receptor activity outside normal parameters. More specifically, LSD activates the 5-HT2A receptors in the brain — causing psychoactive effects. The activity of 5-HT2A goes so far outside the normal range; the body automatically makes changes to reduce the effect.
In order to reduce the activation of these receptors, the body will "hide" some of them. The next time you take LSD, fewer receptors are available for it to exert its effect — producing less impact.
Over the course of 10-14 days without the drug, these receptors will become "unhidden," and LSD has the same level of impact it had the first time all over again.
LSD Tolerance Calculator
Check out this simple LSD tolerance calculator to help you find the approximate dose to overcome the effects of tolerance when using LSD more than once in a two-week window.
*Note, aside from microdosing, it's recommended that you avoid taking LSD more than once every two weeks.